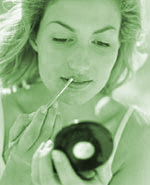 Reve Salon
5633 N Main Sylvania OH 43560 419)885-1140
http://www.salonbuilder.com
i go to stephanie H. at reve salon on main street! i love her! she's done my hair for about 4 years now and it always looks exactly how i wanted it :) plus she's a sweetheart :)
--------------------
for my hair for the day of the wedding Nicole V. is doing it...I'm also going for highlights from her in a couple of weeks right before my wedding. She is really great! My friend Nicole knows Natasha from there and she does great hair as well!
--------------------
Hi everyone! I really have not been able to write that much on this site but I really wanted to give any future brides a "heads up". I am going to try to make this short and sweet.....
My wedding was last month and everything went perfectly
except
for the morning. My bridal party's hair appointments were at Reve Salon in Sylvania. Months prior to my wedding I had gone back and forth with Reve trying to set up everyone's appointments. They could not get anything straight and kept screwing up the appointment times and who they were with.
Like I said I am going to try to keep this short so I am not going to go into detail on ALL of the numerous problems. Let's just say, they even screwed up my appointment a month before the wedding!
The day before my wedding I was getting so frustrated with them that I ended up calling the manager because they were not scheduling my girls at the correct time. I spent over twenty minutes on the phone with the manager confirming everyone's appt. He had everyone down correctly, finally, and he had assured me everything would go smoothly.
Well, it didn't! They had my matron of honor's time an hour too late, my mom only scheduled for a wash, and one of the bridesmaids not scheduled at all!!! I just dont understand how it could have been that messed up when I just went over everything with the manager the day before!!!!
Now, I am really not one to write a "mean" comment about anyone but this situation was just ridiculous! If anyone is thinking about Reve for their bridal party I would not recommend it. If you already have it scheduled for your bridal party, just make sure to keep calling to confirm the girls appts. I just don't want anyone to have to go through that kind of stress on your wedding day!
--------------------
wow, that's where i go regularly and have never had any problems but i guess with all the appts it's bound to happen.
--------------------
My Bridal party and I went there for my wedding day and we all didn't have problems...guess it was an off day! Sorry!!!
--------------------
Yeah, I guess I just have bad luck :( Oh well, I hope no one else has to go through anything like that.
--------------------
fyi- i've gone to reve for 4 years. i've never once had a problem until i got my hair done 2 weeks ago. i made an appointment for myself and my mom.. i was supposed to be at 7 and she at 7:30. somehow they managed to double book me at 7:30 with someone else and not book my mom at all. we sat until 8 before she even got started on my hair. my stylist was supposed to go home at 8 and didn't get out until 9 because they screwed her scheduling up! needless to say she was pissed. apparently they have hired quite a few new desk girls and from what she said all of them have their heads up their a**es. so long story short, my stylist felt terrible and gave us each $10 off our cut since we sat for an hour before she even got to us. they honestly don't normally have these problems, reve is a great place! hopefully they do something about those new girls quick.
--------------------
I've heard the same things..are the new girls the two blonde ones??? NOT the brightest lights on the Christmas tree, that is for sure. When they start losing more business they'll figure it out quick!!
--------------------
yes the 2 new girls i saw both had long blonde hair. i know that my stylist said something about the issue so hopefully that helped!
--------------------